---
Oct 04 | 2022
Philip Bacon Leads ICS Workshop at Breakbulk Americas 2022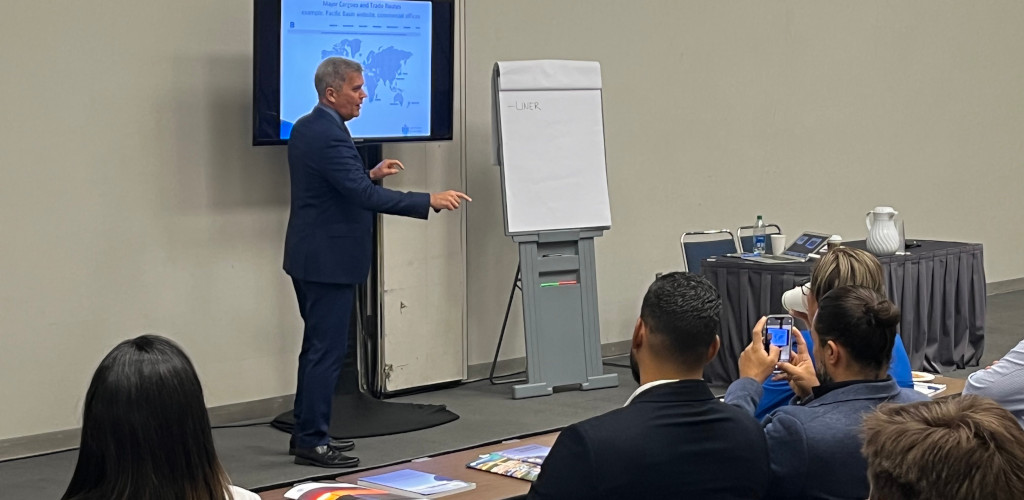 Delegates at this year's Breakbulk Americas in Houston got the chance to brush up on their chartering skills after the Institute of Chartered Shipbrokers hosted another brilliant, one-day workshop.
Building on the resounding success of a first chartering workshop at Breakbulk Europe in Rotterdam earlier this year, Captain Philip H. Bacon, vice president of operations at shipowning group Siem Shipping Inc. and Fellow of the ICS, was once again on hand to provide chartering professionals and those who work with chartering contracts the lowdown on the practice's key principles and applications.
The intermediate-level workshop aimed to boost proficiency in several key areas, including major cargoes and trade routes, terminology, key stakeholders, shipbroker authority, demurrage and despatch and bills of lading.
Among the 35-plus participants at Tuesday's session were cargo owners, brokers, agents, stevedores and port and terminal professionals.
"It is very exciting that we have got a great spread of attendees from the segments that the workshop covers," Bacon said. "It has made for a very interesting session. The workshop is about cargo looking for ships and ships looking for cargo, and everybody that is a part of that and making it happen. And we have all the players."
Vinit Pednekar, supplier and logistics management at oilfield services company Schlumberger, and first-time participant of the chartering workshop, said global shippers often face contractual challenges when dealing with shipping lines.
"I am here to understand how contracts are done in the proper way, and the specific clauses that we should be looking out for," Vinit said.
"Philip is very knowledgeable on the topic, and a great speaker."