---
Oct 04 | 2022
Buy-In from Stakeholders is Key to Successful Implementation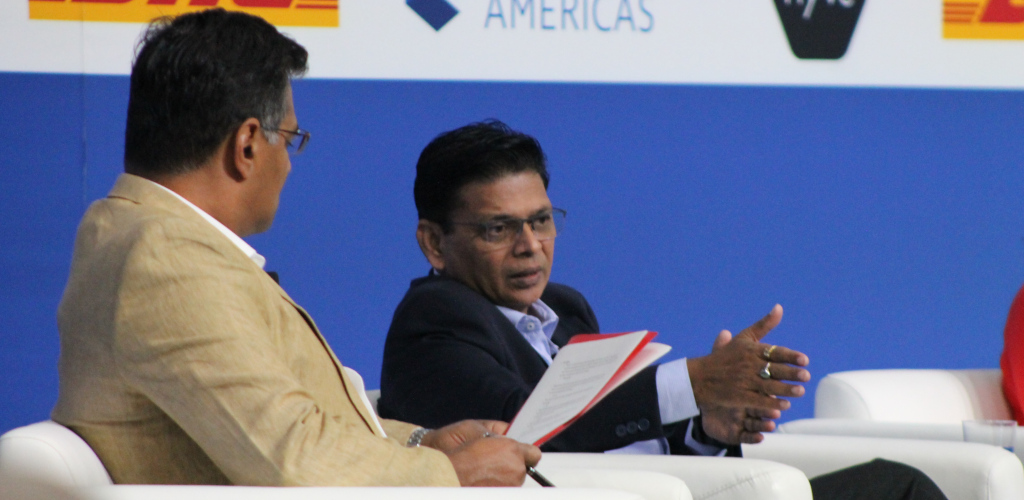 Properly implemented, technology can help large organizations make better use of their data to manage operations, enhance visibility and reduce risk and costs. The challenge is winning buy-in from all stakeholders and implementing change while business continues.
That was a key message from speakers during a main stage panel session on technology at Breakbulk Americas 2022 in Houston, moderated by Arun Joseph, vice president of supply chain solutions at
e2log
.
"Exponential growth in the size and scale of modern industrial projects, often carried out on a global scale and amidst times of rapid change, has increased levels of complexity and risk for large organizations," Joseph said.
"That is particularly true for EPCs and the companies they rely on to serve their customers. As a result, more and more companies are looking to modern logistics technology to help them better orchestrate the process from end to end and deliver projects on time and on budget."
The panel speakers – experts who have first-hand experience of the process– emphasized that implementing such technology requires careful planning, cultivation of a wide array of stakeholders within the organization and careful and measured implementation of change.
"For logistics planners and project managers, the goal is always to deliver more with less and their focus is on their project," said Dharmendra Gangrade, head of the logistics management centre at India-based conglomerate, Larsen & Toubro.
"However, in large multi-project environments, you need to look at the flow of shipments worldwide to find opportunities for cost optimization and risk reduction organization wide."
Also on the panel, Luciana Martins, head of supply planning and controls for New Fortress Energy, a specialist in development of LNG import facilities and integration of LNG for power generation and industrial usage, said making the case to senior management for implementation of new technology takes more than promise of cost-savings.
"You need to demonstrate the ability to identify both opportunities and threats, to reduce risk and to keep company operations sustainable."
Fluor Corporation, one of the world's leading EPC firms, has been integrating new logistics technologies into its operations for several years.
Asheesh Doda, the company's global director for commercial strategies, and Bill Keyes, its logistics director, agreed the transition required careful planning and implementation. Doda, for example, urged the involvement of corporate technology executives early in the planning stage.
"They know what technology is out there and what works. They see across all functions – not just supply chain. They know what interfaces will need to change. You need to show how it will benefit the company. It is also important to make sure your plans are meshed with the company budget planning process so resources will be allocated as needed."
Keyes said that he tries to make stakeholders at all levels realize the power they have.
"We source globally. We are managing multiple projects worldwide 24/7 and sharing data. We can use that data to leverage buyers, expediters and logisticians and show them how their buy-in will benefit them as well."
"Change management is project management," he added. "The challenge is implementing new software and interfaces while continuing to do business. You need to map out goals and work processes and document everything because manpower can change over time. Do not move so fast your systems cannot keep up. We do a lot of 'sandboxing' – testing out modules to make sure they work and that our employees understand how to use them and their value. And it will always require coordination with partners like clients and freight forwarders to make sure data systems are in synch to exchange and manage critical information."
"Properly implemented, these new technologies let decision makers at all levels make intelligent decisions and not just say, 'Where's my stuff?'"
Check out below our interviews with the panellists.