---
Oct 11 | 2022
Region Faces Challenges as it Targets Net-Zero Emissions by 2050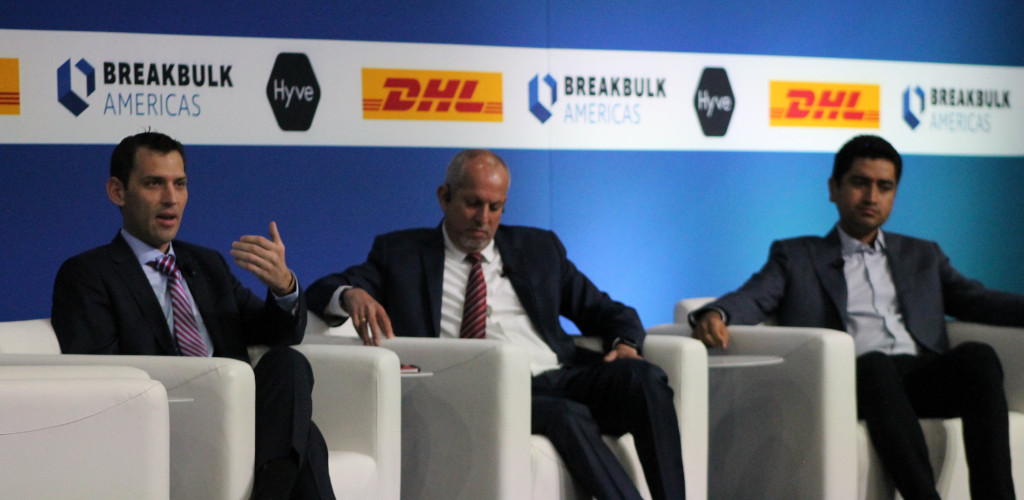 By Doug Webster

Latin America's transition to renewables is well underway, but the region faces significant challenges as it targets net-zero emissions by mid-century.

That was one of the key messages from regional power experts speaking on a Latin America Power Generation panel session at Breakbulk Americas 2022 in Houston, which took place on 27-29 September.

"Latin America is rich in natural resources, and governments are creating incentives for change that offer great investment opportunities," said Ignacio Benedetti, Colombia-based regional director for West Coast Latin America at UTC Overseas.

"Regional electricity consumption is expected to grow 45 percent by 2040. Much of it will be renewables, but meeting that demand requires not just sun and wind, but minerals like lithium, cobalt, graphite, vanadium, tin and copper – some in scarce supply. The good news is that Latin America's known mineral reserves can help meet the demand. Some 50 percent of the world's lithium, used in electric cars, electronics and energy storage, is in Bolivia, Chile and Argentina. Production is projected to grow 500 percent by 2050.

"Over the next three years, the top six Latin American countries will need to invest nearly US$20 billion in transmission lines, skyrocketing the demand for copper. Analysts estimate at least a quadrupling of current mineral output is needed to meet climate goals.

"Mining is water-intensive, but mines and plants are often in arid regions and climate change is adding to the challenges. While mining is a key sector of the economy in many countries – its impacts are not popular and proposals to open or expand mines present tough political challenges. It will require real leadership to address the social and environmental costs involved."

Wind energy is already a significant part of the net-zero transition mix and Luis Carvajal, sales manager for Latin American at Mammoet Colombia, spoke of its the potential. "Existing onshore wind capacity across the region has increased at a rate of 4-5 gigawatts annually over the past decade, topping 5.2 gigawatts this year."

"Colombia and Brazil are prime for offshore wind generation. Colombian experts have identified 50 gigawatts of fixed and floating potential with six gigawatts already under development. Brazil, with its massive coastline could exceed 1,200 gigawatts – nearly 500 gigawatts on fixed facilities and 700 floating."

One of the big challenges, Carvajal said, is the drive for economies of generation scale – larger towers and blades and heavier nacelles. In 2000, a 2-megawatt generator stood 100 meters high. On the books for 2025, the installation of 13-15 megawatts units standing over 300 meters.

For companies such as Mammoet, servicing these mammoth structures requires ever more specialized systems and skills: super tall cranes with 2,000-5,000-tonne lift capacities, specialized transporters to maneuver huge components through urban areas and along access roads, and months of intense planning and permitting.

Latin American ports must upgrade their abilities to service the wind industry on and offshore: larger storage and laydown areas, reinforced docks, improved berth drafts and enhancements to port access. Similar changes at European ports are projected to cost US$7 billion by 2029.

The panel concluded with a close-up look at the transition picture in Mexico by Miguel Pérez, CEO of SAPCO – a leader in Mexican energy sector installations.

"Electrical demand in Mexico has nearly doubled in the past two decades. During that time, state-owned energy company CFE has allowed participation by private-sector producers and self-suppliers. A 2014 decision gave priority to green and cheaper energy and renewables grew from 13 percent to 27 percent of total demand.

"The government continues to own and control all power transmission. In 2018 they required private investors to build their own power grids for new projects. That increased plant costs and lowered private investment in power generation and grids. Meanwhile, Mexican energy demand is increasing at 2 gigawatts per year and 1 gigawatt is lost annually as older plants are retired."

CFE has not been idle, Pérez said. It is investing in 11 projects to generate 6.8 gigawatts, using natural gas, combined cycle and internal combustion resources. All are based at existing CFE plants to increase productivity and availability. However, meeting the country's goal of 40 percent renewables by 2034 requires a reliable grid. Estimates are that CFE needs to install 12,000 kilometres of new HV lines over the next decade, and upgrade 5,000 kilometres.

"Latin America will sustain a dynamic yearly economic growth of 3 percent to 5 percent for the next 20 years due to its own development and nearshoring and reshoring," said panel moderator Rafael de los Santos.

"For a region in the world to grow at these rates, energy is strategic. It will be provided by alternative, and traditional sources. Wind, solar and combined cycles are already buzz words in every country of the region.

"To face such challenges, cooperation between public, and private sectors will need to happen. With a common history, destiny, and language, we Latin Americans bet on ways to rise to the occasion and transition to clean sources of energy, providing a better future to millions of people who live in the region."

Check out our interviews with the session speakers.