---
Aug 30 | 2021
Breakbulk Americas has full support from City of Houston and Mayor Sylvester Turner
Hello Attendees, Exhibitors and Sponsors,
I am excited to have members of Breakbulk Americas 2021 join us in Houston in late September. I understand this will be the region's largest trade event for the project cargo and breakbulk industry. It's also your first time coming together in 18 months.
While I realize you may have concerns about meeting in a large group, I want to assure you that, in Houston, we are doing all we can to minimize the risks associated with the spread of COVID-19. So far this year, our city has hosted more than 50 safe and successful meetings and conventions. And there is no better facility than the George R. Brown Convention Center (GRB).
The GRB was the first convention center in the country to install an Integrated Viral Protection (IVP) system, which is the world's first biodefense filtration technology proven to eliminate airborne contaminants like COVID- 19. Additionally, the GRB earned accreditation earlier this year from the Global Biorisk Advisory Council (GBAC) STAR Facility Accreditation Program-the industry gold standard of safe facilities. To meet the program's rigorous requirements, venues must establish and maintain detailed protocols and procedures on cleaning, disinfection and prevention of infectious diseases.
A citywide task force developed the Houston Clean initiative to establish a unified standard among venues, events and major institutions to mitigate the spread of disease. Through our collective efforts, more than 100,000 guests safely attended events in the GRB in July.
I applaud and support your proactive initiatives as an organization to further protect the well-being and health of attendees, exhibitors and staff by doing onsite temperature checks, and requiring proof of a vaccine or a negative test for those who enter the convention center.
The pandemic has created an unprecedented challenge for all of us, but let me be clear, protecting everyone who lives, works and visits our city is a top priority. I want you to feel confident that you can safely explore Houston whether you are inside the convention center or visiting area hotels, events and attractions.
By working together and following protocols recommended by health professionals, I know we can safely host Breakbulk here in Houston. And if you haven't already, I urge you to get vaccinated.
Again, I look forward to you safely visiting Houston.
Sincerely,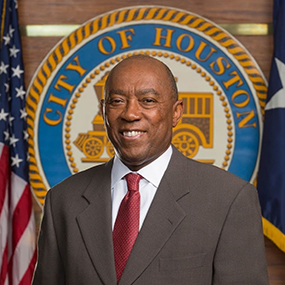 Sylvester Turner
Mayor