---
Oct 02 | 2022
Reduced Pool of Aircraft Curtailing Options for Shippers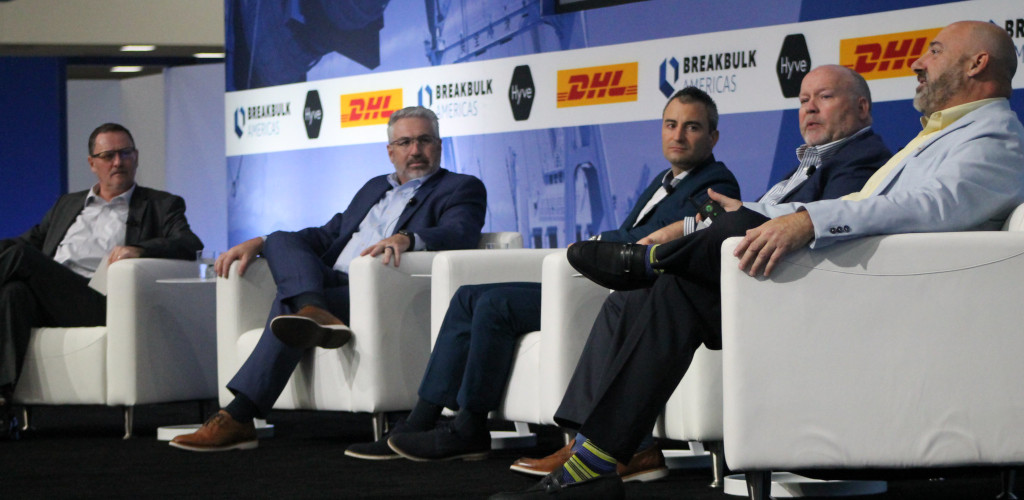 Forwarders, shippers and asset owners are facing increasing challenges when it comes to accessing aircraft and specialized equipment for transporting project cargo.

That was one of the takeaways from the much-anticipated Breakbulk Americas panel session, Air Cargo Solutions for Project Cargo, moderated by Fayçal Boumerkhoufa, vice president of integrated project solutions at CargoLive Logistics.

According to Boumerkhoufa, most heavy-cargo aircraft have been allocated to supply possibilities and capabilities through e-commerce, bringing much-needed commodities to the markets, he said.

The situation has been compounded by the conflict in Ukraine, which has seen the operations of Volga-Dnepr Group – one of the major players in the market – severely curtailed.

The Russian carrier was one of the largest suppliers of Antonov 124s in the market.

Hostilities have also impacted the operations of Ukraine's Antonov Airlines, who have been forced to relocate its base to Leipzig. The carrier had been operating out of the Gostomel airbase close to capital city Kyiv.

On the panel, Amnon Ehrlich, Antonov's director of sales for North America aerospace, government and defence programmes, said five of the company's seven AN-124 heavy cargo aircraft are currently operating.

"At the time, when the war started, luckily, we had five aircraft that were outside of Ukraine," Ehrlich said. "Those five aircraft are currently operating – two of them are for NATO or for SALIS (Strategic Airlift Interim Solution), the other three are operational for commercial use."

"But of course, there is the issue of maintenance. It is an aircraft that requires a significant amount of maintenance. So, there is always at least one to the side."

Antonov's AN-225 "Mriya", meanwhile, the world's largest cargo plane, was among several aircraft destroyed during fighting between Russian and Ukrainian troops for control of Gostomel. The aircraft had been undergoing maintenance at the time of the Russian attack.

"It will take a herculean effort to rebuild, not to mention money. But will it? Absolutely," Ehrlich said. "We will rebuild the AN-225."

Panellist Axel Kaldschmidt, vertical head for aerospace, marine and defence at Schenker Americas, said capacity and demand would likely remain tight for the next 24-36 months, with the current availability of aircraft down compared to pre-2020.

The executive pointed to the 747-F nose-loader, one of the most important aircraft for the transport of oversized cargo, which will cease manufacturing in October.

"Boeing is closing that line and what is the impact from that? You will not have load capacity airplane being built anymore. And that will have a great impact," Kaldschmidt said. "In oil and gas, transporting pipes and larger pieces of equipment, the 747 is an integral part of your toolbox to move the cargo you are looking to move."

Robert Reed, director of international procurement, global logistics and global corporate travel at oilfield services company Nabors Corporate Services, said the final delivery this year of the 747 had given the industry "food for thought".

"We have used the 747 nose-loader for equipment, mainly due length, width or height, as through a 777 it will not fit. So, we need the nose-loader to transport certain equipment," Reed said.

Still, other options are set to give the market a boost. European aircraft manufacturer Airbus, for example, is getting ready to bring more of its Beluga ST freighter planes into service.

A first Beluga ST, with a capacity to transport up to 40 tonnes, is already in operation, with a second slated to start flying early next year, said panellist Reza Fazlollahi, business development and commercial director at Airbus Beluga.

"The third will join at the end of next year, and a fourth one in 2024. And the fifth one either at the end of 2024 or beginning of 2025," the executive said.

Fazlollahi also gave delegates the lowdown on Airbus's plans to redevelop and relaunch two existing load techniques for over-dimensional freight.

Up to 20 outboard platforms positioned at strategic locations will be available by the end of 2023, while a 20-tonne-capacity onboard cargo loader designed for positioning inside the Beluga is also slated to begin operations next year.

"We are learning from our customers, the freight forwarding companies and the brokers, trying to provide solutions that will help that oversized air cargo market with new capacity."

Check out below our interviews with all the panellists.