---
Oct 02 | 2022
US Offshore Wind Industry Faces Complex and Broad-Based Challenges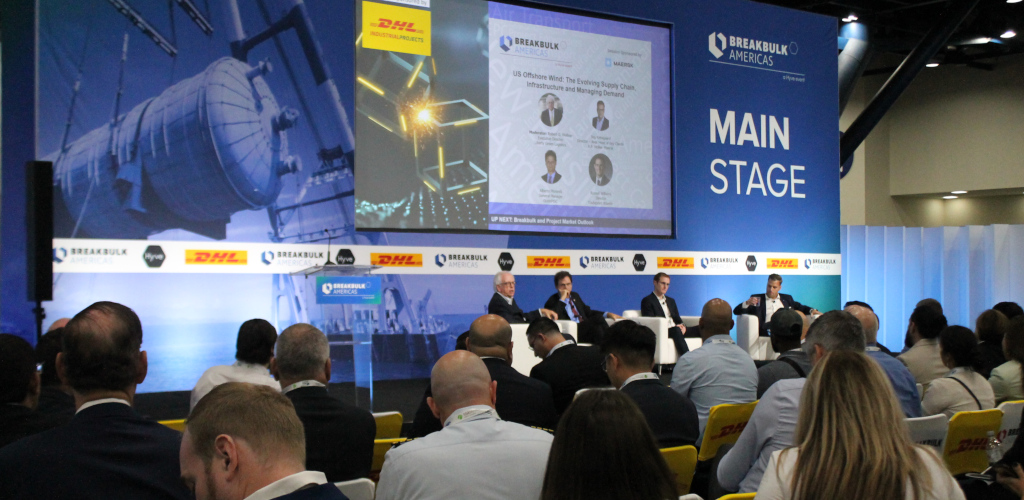 The growing pains have begun. Complex and broad-based challenges have emerged as the fledgling US offshore wind industry ramps up.
Undeterred, supply chain participants speaking at a main stage panel session at Breakbulk Americas 2022 in Houston offered up insights and solutions to help evolve the country's offshore wind supply chain and infrastructure.
Panellists agreed that opportunities abound for EPCs, OEMs and supply chain participants at every level. But first, there is work to be done. When a country takes on ambitious targets for an energy industry with almost no existing assets or supply chain, investment and innovation are a must.
Alberto Morandi, general manager GustoMSC, a design house focused on energy transition solutions, pinpointed a disconnect between government goals and targets, and the reality of the offshore wind supply chain.
"A lot of this is based on pledges, targets that the governments have," Morandi said. "To turn those into real contracts that spur investment is a different thing. We need a lot more investment, turbines, cables – everything."
Projects need supply chains, and supply chains do not exist without projects. "And finance is not going to show up unless you can align your project with supply," Morandi said.
The executive pointed to differences in the oil and gas industry.
"The offshore wind business is more predictable but also has a lower return on investment. There is a lot of repetition, so if you are installing a hundred turbines in a field, if you make a mistake on one, it is a mistake on hundreds. These tighter margins are not that easy to deal with."
Stig Kirkegaard, area head of key clients for Maersk, said short-term, single site contracts would fall short in the offshore wind industry, while project finance and contracting may prove tricky. There is room for longer, multiple-project contracting, such as Performance Planning Agreements.
Panel moderator Robert G. Wellner, executive director of Liberty Green Logistics One, outlined some of the US administration's goals, which include deploying 30 gigawatts of offshore wind by 2030, generating clean electricity to power over 10 million homes and luring capital investments of more than US$12 billion per year in projects on both US coasts.
This will necessitate an investment of more than US$800 million in port upgrades. Fortunately, the federal government has loosened the purse strings. Generous grant funding is currently available, especially for port development.
Building the industry will take some time. Russell Williams is director of Tradepoint Atlantic, a massive industrial development and emerging multimodal logistics hub outside of Baltimore, which is positioning itself as a site for large-footprint wind-energy players.
According to Williams, the industry is unlikely to develop a rapid rate. "There is quite a [time] gap between making a decision and getting the blades spinning in the water," he said. "A lot has to be accomplished first."
Kirkegaard said the offshore wind industry has depended on other countries for components and supply chain. While that reliance may always continue for some elements, he said it makes sense for the US to focus on building the larger components at home, to more easily meet sometimes stringent local content requirements.
Technology will also be key to accelerating new gigawatt capacity, Morandi said.
"Just yesterday, we launched a new solution in Hamburg where you have this retractable boom that latches onto the wind towers," Morandi said. "Essentially, this eliminates the need for large-scale expensive cranes."
As offshore wind matures globally, the US, by virtue of the fact that it is arguably late to the table, may benefit from industry advancements.
"At the end of the day the answer is technology," said Morandi.
Check out our post-session interview with the GustoMSC executive: